TRUTH OR CONSEQUENCES


by Erin Scott
VENUE:
BLACK BOX THEATRE

DATE:
Friday January 11

TIME: 8:00PM


TICKETS AT THE DOOR

Erin Scott, poet and performer, is the mistress of ceremonies (with her own agenda) for an interactive performance investigating truth and the lies we live with.

Come play a game about the power of lies, the truth hidden within the stories we share, and the freedom in accepting consequences. As Bob Barker would say, "I hope your consequences are happy ones".
AEON (Kelowna)

Aleksandra Dulic, Miles Thorogood, Emerald Holt, Patrick Lundeen & Neil Cadger
VENUE:
BLACK BOX THEATRE

DATE:
Friday January 11

TIME: 9:00PM
(following Truth or Consequences)
TICKETS AT THE DOOR
Join this festival concert/dance party with live mixed projected images, acoustic & electronic sounds.
V.VECKER ENSEMBLE (Vancouver)

Concert presented by Skin and Bones, The Alternator Centre for Contemporary Art, and Living Things International Arts Festival

VENUE:
BLACK BOX THEATRE


DATE:
Saturday January 12

TIME: 8:00PM

TICKETS: TBA


Recently featured in the TD Jazz Festival, V. Vecker is an improvisational feast from Vancouver underground composer Keith Wecker. The ensemble's current lineup includes guitarist Brody McKnight and bassist Andrea Lukic from Nü Sensae; bassist Liam Butler of No Gold; santurist Luka Rogers from Basketball, and drummer Dave Rogers, who also plays in troupe Aquanaut.
Listen on Bandcamp

OBJECTS IN MOTION:

Annecy International Film Festival Selections

VENUE:
RCA (Mary Irwin Theatre)


DATES:
Tuesday, Jan. 15

TIME: 7:00PM

TICKETS: https://rotarycentreforthearts.com/event/objects-in-motion-animated-film/all/

An evening of animated shorts from the National Film Board archives and independent film-makers from around the world including 2018 selections from The Annecy International Animation Film Festival.
BLINDSIDE (Vancouver)
by Stéphanie Morin-Robert
VENUE:
BLACK BOX THEATRE

DATE:
Wednesday January 16

TIME: 8:00PM

TICKETS:
https://rotarycentreforthearts.com/events/category/tickets/photo/
In a feat of riveting comedy, one-eyed storytelling champion and cancer survivor Stephanie Morin-Robert recounts her life as a feisty 7 year-old who wields her glass-eye as a superpower.
In Blindside, a prospector's recent diamond discovery forces his daughter, a young and sheltered cancer patient with a prosthetic eye, to change schools in the middle of the third grade. While her family members are distracted by their luxurious new lifestyles, she struggles with finding the confidence it takes to face her tormenting bullies at her new school. With the help of her cat, a pair of sunglasses, and an undesirable superpower, she soon discovers that she has what it takes to fight back and come to terms with her disability.
For more about Morin-Robert and Blindside visit the
artists website
and
watch a preview.
★ ★ ★ ★ ★
"Heartwarming reminder of the power of embracing what makes us unique." -
Vue Weekly
★ ★ ★ ★ ★
"Funny, vulnerable, and sweet. Phenomenal and not to be missed!"
-Inside Ottawa
★ ★ ★ ★ ★
"A triumph of storytellling. Go. Go. Go."
-CM Montreal
IDEAS BOBERT! (Vancouver)
by Candy Roberts

VENUE:
BLACK BOX THEATRE

DATE:
Friday January 18
TIME: 6:00PM & 7:30PM

&
DATE:
Saturday January 19
TIME: 1PM & 2:30PM
ages 4+
TICKETS:
@ https://rotarycentreforthearts.com/event/ideas-bobert/2019-01-18/

From award winning creator Candice Roberts comes a clown tour de force of comedy conundrum. With a vintage silent film styling, shadow puppetry, stop motion, animation projections, dance and live music, the world of Ideas Bobert! is rich with magic and creativity.
For more about Candy Roberts
visit the artist's website
and
preview Ideas Bobbert here.
★★★★ "All ages will enjoy the fine clown work of the multi-talented Roberts. Anyone with a curious heart will find theirs aflutter watching Ideas Bobert!"-
Winnipeg Free Press
★★★★
"
Charming and skillfully performed. Putting Ideas Bobert on your list would be a good idea." -
CBC Winnipeg
PUPPET SLAM!

Michael V. Smith (as Cookie) hosts an evening of professional and amateur performers doing unusual things with objects......

VENUE:
BLACK BOX THEATRE

DATE:
Saturday January 19

TIME: 9:30PM

ADULT CONTENT & NUDITY (puppets and people)

TICKETS AT THE DOOR

Underground puppet slams are popping up everywhere. They feature contemporary short-form puppet and object theater for adult audiences, often late at night in small venues, nightclubs, and art spaces.
Puppet Slams exist at the nexus of vaudeville, burlesque, and performance art through the intersection of experimental theater, art, music, and dance as a viable alternative to the culturally homogenous digital mass media. If you have a secret life as a puppeteer and want to come out or an attention-worthy relationship with objects, this is your chance.
MACBETH MUET (Montreal)

by La Fille Du Laitier
VENUE:
RCA (Mary Irwin Theatre)

DATES:
Saturday January 19 Sunday January 20

TIME: 8:00PM
TICKETS:https://rotarycentreforthearts.com/event/macbeth-muet-la-fille-du-laitier/2019-01-19/

A soldier loyal to his country encounters three witches on the battlefield that tell him he will be king. Now, Macbeth and his partner in crime, Lady Macbeth, are on a bloody path of ambition, power, and betrayal.
Macbeth Muet completely deconstructs this Shakespeare tragedy into a fast-paced, visceral theatre experience, using the body, objects as imagery, and a ton of fake blood. Entire scenes are reduced to a single look, as Shakespeare's complex and beautiful poetry is rendered mute and searing. And through it all, a couple is transformed irrevocably. Our Macbeth is a world so devoid of morality or thought and so disposed towards action and results that human lives are as disposable as styrofoam cups. And the excess, the blood, the scraps, the waste, will all be left behind for future kings.
"…
inventive and oxygenating…it may break your heart in a way you don't see coming."
– New York Times
★★★★ ★ "This is a display of sheer theatrical invention.
- 5 STARS, Winnipeg Free Press
★★★★ ★ "Frenetic, fun and ingenious, Macbeth Muet is killer theatre."

- CBC Winnipeg (5 STARS)
For more, check out the
MacBeth Muet trailer and the La Fille du Laitier website
BUSHEL AND PECK (Vancouver)
by Alastair Knowles & Stéphanie Morin-Robert
VENUE:
BLACK BOX THEATRE

DATE:
Sunday January 20

TIME: 2:00PM
TICKETS:https://rotarycentreforthearts.com/event/bushel-and-peck/
Alastair Knowles (
James &
Jamesy
) and Stéphanie Morin-Robert (
Merkin Sisters
/
BLINDSIDE
) fuse their mastery of comedy and movement as they tear up their performance handbook,
touch the untouchable
, and are blown away by the uproarious consequences.
Bushel and Peck
will boisterously charm your naked heart.
"Brilliant and absurd. The perfect tonic for whatever ails your mind."
London Free Press
"Visually stunning."
- Montreal Gazette
"With use of simple objects like balloons, a wooden board, a microphone, a light, and collared white shirts, these two performers created magic onstage.
" - Miya Abe, Edmonton Fringe Festival
Visit the
artists' website
for more about Bushel and Peck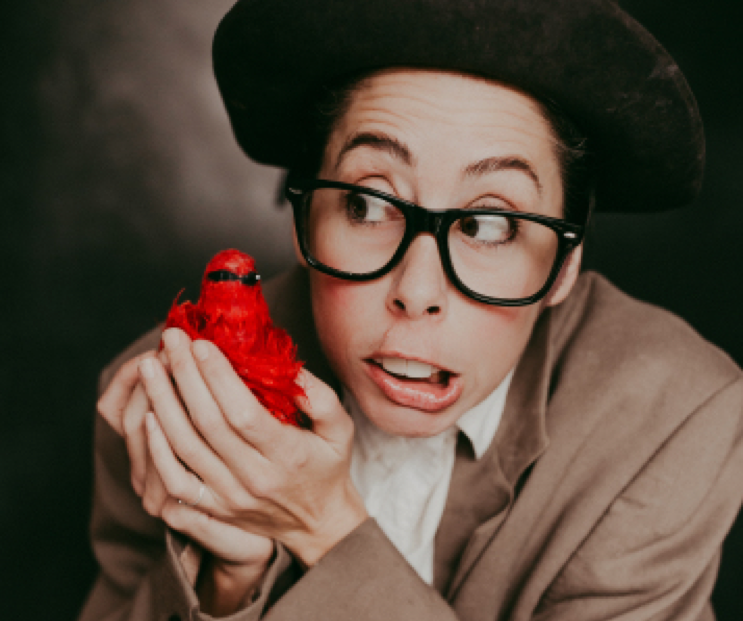 CHEATED (USA & Vancouver) an interactive game

Created, performed and facilitated by Deanna Fleysher (BUTT KAPINSKI) & Liam Kearns


VENUE: Curious Café


DATE: January 22 - 25
TIME: TBA

You and two other strangers meet in a bar. You are connected, but you don't know how. And when you realize what you all have in common, one thing becomes clear: You have exactly one hour to save your life.

Cheated!
is an interactive escape mystery about the sting of betrayal, the necessity of moving on and the therapeutic power of art.


OBJECTS IN MOTION: Experimental Animated Films
curated by Myron Campbell


VENUE: RCA (MARY IRWIN THEATRE)

DATE: Tuesday January 22 TIME: 7:00PM
TICKETS:
https://rotarycentreforthearts.com/event/objects-in-motion-animated-film/all/

An evening of experimental animation showcasing both seasoned artists and directors as well as new and emerging independent artists and storytellers from Canada and beyond.





PEPPER PEPPER:
DIVA PRACTICE
by Kajanne Pepper
VENUE: BLACK BOX THEATRE


DATE: Saturday January 26
TIME: 9PM
Being fabulous takes practice! Diva Practice embodies fabulousness by hybridizing drag, technological interventions and contemporary dance. While blending of genres, Diva walks between the worlds of nightlife, dance-theatre, and installation, while also making accomplices of the audience.
For more information, visit the
Pepper Pepper project website
or
preview the show on Vimeo.

BUTT KAPINSKI (USA)by Deanna Fleysher


VENUE: BLACK BOX THEATRE
DATE: Saturday January 26
TIME: 7:30PM

DATE: Sunday January 27
TIME: 8:00PM
Think it's a solo show? Think again. Private eye
Butt Kapinski
invites you to co-star in a film noir murder mystery. Join Butt in a seedy world of sex, sin, shadows and subterfuge as you take the ride of a full-on interactive comedic experience. Kick reality to the curb! Play in a world of dark dreams and bad similes. ADULTS ONLY.
"This was a remarkable piece of theater, sort of like a foreign language immersion course. Almost everyone in the audience was drawn into this interaction show, and turned in quite incredible improv performances themselves. Don't miss this limited run – you'll be kicking yourself if you do."
—LA Reporter
"To say audience members surrendered themselves wholeheartedly to their roles would be an understatement… Fleysher's ability to create community in the space of 60 minutes is nothing short of amazing."
-
The Georgia Straight
"* * * * * …
a tour de force of character comedy and clowning."
—The UK Independent
"* * * * *
Ludicrous, racy and entertaining immersive comedy at its finest."
—Edinburgh Festivals Magazine
"* * * * *…
Butt Kapinski is not just a show; nor is it just the name of the main character; it could very well be the name of a new type of theatre/comedy style."
—Glamadelaide (
full review
)
"* * * * *…
Calling Butt Kapinski 'a one-woman show' is like calling Wayne Gretsky 'a hockey player'… I can't remember when I've laughed so hard or so often…"
—Calgary Herald
NAKED COMEDY
(fully clothed)

with Deanna Fleysher (BUTT KAPINSKI)

VENUE: RCA
(Salloum Room)

DATE: January 26 & 27 TIME: 10AM - 1PM

"Be more than funny. Be loved."
Naked Comedy will demand your heart, your guts, and all your fluids. We want to see how funny you can be without thinking or trying.
Through play, we will explore your unique connection to the audience, the bravery required to be vulnerable, and the gratification that comes with letting go. Expose yourself (metaphorically speaking!) and make people laugh.
In this intensive, expect the following:
A deeper connection to and understanding of the audience; personalized feedback (and plenty of it); Discovery of your "sweet spots" (unique ways that you move/be, the emotional/physical states that the audience especially enjoys); More understanding of what "stage presence" means for you; How to really harness your performative power; More wildness, more bravery, more vulnerability. Laughing a lot.
This workshop is ideal for improvisers, clowns/bouffons, stand-up comedians, actors, and anyone who wants to be more funny or comfortable in front of others than they currently are.
Workshop leader Deanna Fleysher is an American comedy artist, teacher and director. Inspired by clown, bouffon, improv and physical theater, she cultivates comedy that is interactive and brave. She currently tours with her award-winning solo show Butt Kapinski, and teaches workshops around the world. She also leads the ongoing Naked Comedy Lab in the Pacific Northwest. For more info, visit
www.buttkapinski.com
, and please check out her blog at
nakedcomedy.blogspot.com.
PALMYRA (UK)
by Bertrand Lesca & Nasi Voutsas

VENUE: RCA (Mary Irwin Theatre)

DATE: February 1 & 2
TIME: 8:00PM
TICKETS:
https://rotarycentreforthearts.com/event/palmyra/2019-02-01/

"
Clowning turned nasty and the crockery started to fly in Bertrand Lesca and Nasi Voutsas's brilliantly conceived, absurd two-hander that takes its name from the much fought over ancient Syrian city. It could be seen as a show about the west's inability to take action in Syria, but equally read as a metaphor for a personal relationship breakdown. Viciously funny."
★★★★ Lyn Gardner
THE GUARDIAN
(full review)
"It's rare to see emerging artists with such a strong signature style...stressful...but sublime as well."
★★★★ Matt Trueman,
WHATSONSTAGE(full
review)
For more, visit the
artists' website.
Photo: Alex Brenner
POLITICS IN THE ROOM
Workshop with Bertrand Lesca & Nasi Voutas (Palmyra)


VENUE: BLACK BOX THEATRE

DATE: January 29, 30 & 31
TIME: 7PM - 10:00PM

How do we prioritize simplicity when talking about very complex matters? How do you inject feeling into facts? In this practical workshop based on their own practice and creative methodology, Bert and Nasi explore ideas around disagreement, frustration, hatred and reconciliation – particularly as these relate to contemporary society – using the stage as a space for artistic and political negotiation.
There will be some discussions, some improvisation and some loud music (probably ABBA). Participants will develop an understanding of how to make a political situation live in a room between 2 or 3 people; and to make use of metaphors in order to make the situation you are exploring more understandable.
Workshop leaders are Total Theatre Award (UK) winners Bertrand Lesca and Nasi Voutsas, creators and performers of EUROHOUSE and PALMYRA, who have developed a strong reputation in the UK for making original political theatre. For more about their work, visit the
artists' website
.
For more, visit the
artists' website
.
Photo: Alex Brenner